The WWWVL President : en · es · fr


The WWW Virtual Library:
President
---
See also: About the Virtual Library,

---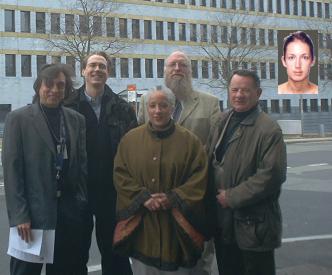 Arthur Secret was elected president of the association on February 23rd 2006. He chairs the Association's Council, elected in January 2006.

A graduate of EISTI, Arthur had already played a significant role in the WWW Virtual Library between 1993 and 1997, at both CERN and the W3 Consortium. As a computer scientist in the Geneva area of Switzerland, he is currently involved in photo production, stock ratings and art estimation projects.
Arthur maintains the advanced browsing section of the WWW Virtual Library.

I want to thank all WWW Virtual Library members for their dedication to this project for all these years. I'm privileged to have this second chance to lead such a prestigious community, and I'm confident that with the help of Michael and the new Council the WWW Virtual Library will continiue to improve and expand.
(Arthur Secret, February 28th, 2006.)
The photograph above shows the new Council just after February 2006's General Assemby of the Association.
Arthur Secret is second from the left.
The other Council members (from left to right) are: Raoul Sanchez, Lisa Micah, Michael Chapman, Christian Savale and (inset) Marion Julia.
---
Copyright © 1991-2006 The WWW Virtual Library. Last update: February 12th, 2008.
Site Hosting: Bronco